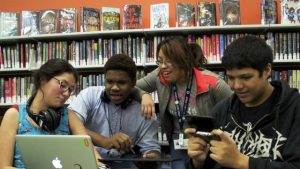 The Lounge
Teen After School Program
Don't know what to do after school on Wednesdays?
The Lounge is a program at the library for just students grades 6 through 12 to hang out and play video games, eat or snack, do homework, play board games, learn programming, or just hang out.
Play the PS4 on the big screen tv, try out the board games "Ticket to Ride", "Settlers of Catan", or "Exploding Kittens", get help with your homework, test your skills out on the Wii playing Mario Kart, have a snack, play Fortnight on the tablets, and so much more!
We meet in the Story Room every Wednesday from 3:30 to 5:00pm.
No registration required, drop in and see what's going on!