The Donald W. Reynolds Community Center and Library offers free instructional classes in our computer lab. The classes are usually one and one half hours and are offered at a variety of times. Classes are structured for beginner level.
Classes Offered
Microsoft Office: Word, Excel, Power Point
Digital Photo Editing Basics and Advanced with Photoshop Elements
Basic Computer Skills Using Windows
Email
Internet Browsing
Introduction to Smart Board
File Management
Genealogy classes
eBook classes
Call or come by the library to register for a class. You may also request a class be offered.
Class Schedule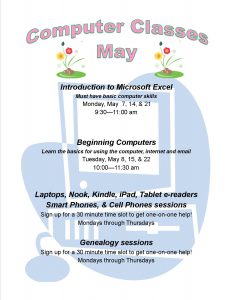 One-on-one computer, laptop, tablet, smartphone, and device session available. See the circulation desk for an appointment.