Infographics: Library Numbers Tell Our Story

Donald W Reynolds Community Center and Library, proudly serving the entire Bryan county community.
Adults
72 adult programs. 798 adults participated in our adult programs, including computer, fitness, and cooking classes.
Children
145 story time programs. 1,520 children participated in after-school story time programs during the school year.
Community
population: 47,995. 113,831 patrons visited the library and used its resources.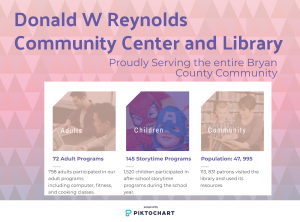 ---
The Donald W Reynolds Community Center and Library is bringing the library home to kids. COVID hours: Monday through Friday 9 to 6 and Saturday 10 to 2. Free kids meals from 4 to 6.
1,501 take home story time bags provided June through October.
1,639 free meals to-go June through October.